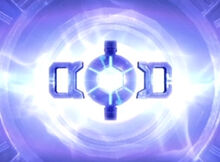 The most sacred of Cybertron's relics, the Matrix is held by a Prime, whose roles it is to lead Cybertron. It is also called the Creation Matrix.
The Matrix is a part of Primus, the Life-Giver of the Cybertronians. So long as it exists Primus can never truly be destroyed. Because of it's link to Primus and thus the All-Spark, the Matrix is able to create Sparks, creating new Cybertronian life.
Powers and Abilities
Edit
Link to the All-Spark/Creation of Primes: With the Matrix, a true Prime, one bonded to the Matrix, will gain an Empathic link to his entire race, knowing their suffering and joy. This link also means that they will be given a resistance to supernatural attacks.
Spark Creation: As befitting its original name, the Matrix can create Sparks.
Cybertron Reboot: So long as the Matrix exists, it can be used to restart Primus' spark if he should perish.
Other unknown powers: The matrix appears to hold some manner of sentience of its own, perhaps that of Primus. This has allowed it to do things that are entirely unexpected...
The image of the Matrix used is from War for Cybertron.